Top 3 Beaches Near Jacksonville, NC
Posted by Kelli Salter {personal} on Tuesday, June 7, 2022 at 10:49 AM
By Kelli Salter {personal} / June 7, 2022
Comment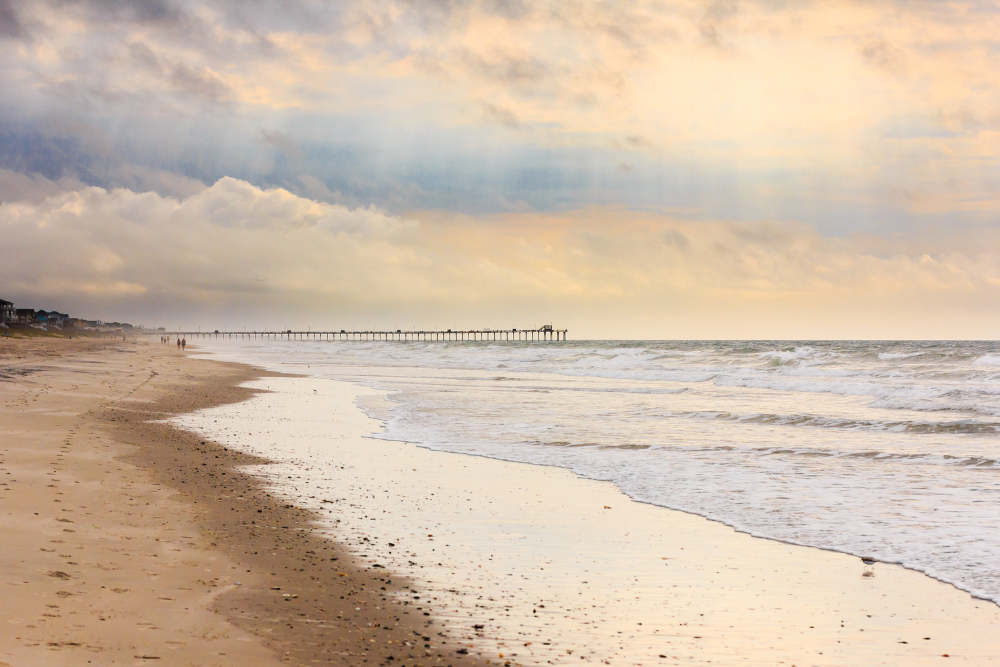 The beaches located along the coastline near Jacksonville, North Carolina provide some of the best places to spend the day enjoying the water. A mix of tourists and residents can be found sprinkled along the beaches that border the Crystal Coast as they enjoy sunbathing, swimming, or playing in the sand. These beaches are picture-perfect and hold so many exciting and fun activities for retirees, families, and couples. Even the military personnel stationed at Camp Lejeune love living close to the pristine beaches that Jacksonville has to offer. Many residents love having the ability to live close to or on one of the local beaches nearby, as going to the beach is a favorite activity of the residents in Jacksonville.
There are three major beaches with smaller ones surrounding them near Jacksonville, North Carolina. With an average of 8 months of warm weather a year, there really isn't a bad time to visit the beaches near Jacksonville. North Carolina's sandy beaches are often remote and rarely crowded, and a charming coastal town is rarely far away in the Tar Heel state. Whether you already live here, are looking to move, or just want to visit on vacation, we have compiled a list of the top 3 beaches to visit near Jacksonville, North Carolina.
Topsail Beach
Topsail Beach is very popular amongst residents and tourists alike. In fact, many tourists plan their vacations around visiting Topsail Beach. Not only is this beach beautiful, but it was also voted the Best Little Beach Town In The USA in a recent survey conducted by TripAdvisor.
Two other sandy destinations share Topsail Beach's 26-mile barrier island: North Topsail Beach and Surf City Beach. The beach is at its most pristine and simplest in Topsail. There are no large hotels or huge resort destinations here, so you can enjoy it without the crowds or chaos associated with some coastal towns. A perfect place to relax in the sun, cast a line, or catch up on your reading list, the island's private cottages and beachside resorts are the perfect vacation getaway. You can explore the secret military testing program at Topsail Beach during WWII and the pirate lore behind the name of the beach on a rainy day at the Missiles and More Museum.
Whether you are on vacation or a resident of Jacksonville, visiting Topsail Beach is highly admired for its lack of crowds and chaos that most popular beach destinations have. Going over the swing bridge on the way to Topsail Beach is one of the defining factors of visiting. Plans are being made to create a large flyover bridge to the island, but currently, drivers must cross the swing bridge to access the south part of the island. This allows drivers and their occupants to enjoy the view of the Intracostal Waterway as sailboats cross under or by the swing bridge. Residents and tourists alike love to walk or ride their bikes over the bridge and selfies on the antique structure are becoming increasingly popular.
Emerald Isle Beach
Located along the Crystal Coast, Emerald Isle Beach has soft sand, incredible views, a family-friendly atmosphere, and life-changing sunsets. In fact, Emerald Isle was named the Best North Carolina Beach in 2018 by USA Readers' Choice Awards! Emerald Isle Beach is focused on family fun and is a haven for watersports, onshore/offshore fishing, sunbathing, and making sandcastles. Regardless of what you set out to do at Emerald Isle Beach, there is always something else to explore or another adventure to go on.
In addition to its location on the western edge of the Bogue Banks, Emerald Isle Beach features 12 miles of largely undeveloped shoreline that provides stunning views of both the Atlantic Ocean and Bogue Inlet. As well as enjoying the sun on the beach, fishing is a popular activity at the beach and Bogue Inlet Pier as well.
Not only is Emerald Isle Beach famous for its pristine sand and stunning views, but the maritime forest surrounding the beach is also a popular attraction. Maritime forests are home to incredible plants and animals such as Sea Turtles, White Egrets, Wax myrtle, Holly, and Sea Oats. Additionally, they play an essential role in protecting the island's shoreline from wind and constant coastal movement. Emerald Isle Beach was named after and still is a beautiful indicator of the magnificent diversity amongst wildlife and coastal estuaries in the area.
The small southern town feel of Emerald Isle and its town slogan, "Nice Matters," make this a great family destination. With thousands of Emerald Isle Vacation rentals for large groups and small families, more than 75 public access beaches on the ocean, and more than 25 public beach parking lots on or near the oceanfront, Emerald Isle boasts a wide range of accommodations. The motto of Emerald Isle Beach is to value and maintain a family-friendly beach with a small-town atmosphere.
Not only does Emerald Isle Beach have plenty of activities and fun to find, but it also has several events that are held every year. The Emerald Isle Beach Music Festival is just one example of the many events held on the beach. Thousands of people gather to listen to some of the best artists in the music industry, as well as many amazing local musicians and bands.
Onslow Beach
To truly understand the beauty and significance of this beach, we must first do a little history lesson. Designated for military training in 1941, many military training exercises have been conducted at Onslow Beach. During one of the most hotly contested campaigns training at Onslow Beach helped the men who took over Guadalcanal from the Japanese, which became a major turning point in the war. A practice invasion of Cuba was conducted on 16 November 1962, 19 days after the end of the Cuban Missile Crisis, but not every exercise translated into actual military action.
On days when exercises are not being conducted, people like to fish, sunbathe, and collect shells on the beach, especially during warmer months. Camp Lejeune now uses the beach for recreational use for the community. Over 2,000 visitors travel to Onslow Beach over the weekend between Memorial Day and Labor Day. It's important to note that to get to this beach you must first drive through a military base, so please have your ID ready.
With over 30 miles of uncrowded and family-friendly beach, there are many activities such as fishing and kayaking for residents and tourists to enjoy. Even when there is an influx of tourists and visitors, any individual can find a quiet place to relax along the beach.
There are three types of endangered species that call Onslow Beach their home. Green Sea Turtles and Loggerhead Turtles use this beach area to lay their eggs, which makes this beach very special. From May to October, sea turtle eggs are collected daily from a one-mile stretch of beach, and they are incubated until they hatch. Once they are hatched and healthy, they are then released back onto the beach and into the water. This is a breathtaking and once-in-a-lifetime opportunity to view, which is why this beach is so popular among tourists and residents alike.
Restoration efforts to counter natural erosion are ongoing at the beaches that host important human and wildlife activities. Hurricane Ophelia, which devastated the beach in September 2005, not only caused significant erosion but nearly destroyed the historic Riseley Pier as well. While visiting Onslow Beach, visitors can take in the natural beauty surrounding the area and appreciate the history it brings as well.
Visit The Beaches Near Jacksonville, North Carolina
No matter who you are or where you are from, the beaches near Jacksonville, North Carolina have something for everyone. Residents love to day trip or plan a weekend getaway at one of the pristine beaches along the Crystal Coast with their families and friends. Tourists love planning their entire vacation around spending time at the beaches that Jacksonville has to offer and spending their evenings on beachfront property. Many residents of the Tar Heel State who visit the majestic beaches surrounding Jacksonville find themselves wanting to move closer to the coast too. No matter what, Jacksonville has a beach for everyone.
There are many great beach communities near Jacksonville, NC. Our team of
real estate experts
can help you if you are looking to own or sell a home on one of the great North Carolina beaches, such as Emerald Isle, Topsail Beach, or Onslow Beach. Contact us with your questions about waterfront properties near Jacksonville by
filling out our form
or calling us at
(910) 548-7806
.